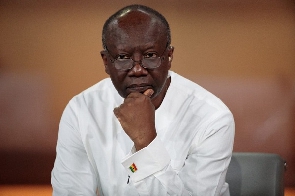 Chief Executive Officer of investment advisory services firm C-Nergy Ghana has called on the government to conclude all discussions, negotiations and actions on the Debt Exchange Programme in quick succession as part of efforts to restore investor confidence in Ghana.
According to Micheal Cobblah, the programme has culminated in uncertainties among investors which has impacted investor confidence in the country.

Speaking during a Twitter space, Cobblah stressed that many in the investor community have already sought opportunities elsewhere due to uncertainties surrounding the debt exchange programme.

He explained that many investors have also now resorted to purchasing forex as a new way to keep their investments safe, a situation which he warns will further compound the woes of the cedi against major trading currencies.

"We need to conclude this DDEP immediately. The more it is in the faces of investors, the more we create a certain level of uncertainty," Cobblah stated.

"People have lost monies so the earlier we get this off the table, the better. The more we keep talking about haircut and restructuring, that uncertainty makes it difficult for people to release money for investments," he stated.

The C-Nergy boss further cautioned that investment uncertainties would not bode well for the Ghanaian economy as it drives existing and potential investors away.
Meanwhile, the government of Ghana recently launched a second round of the DDEP targeting pension funds, US dollar-denominated domestic bonds and cocoa bills.

However, in the first round of the DDEP, the government achieved about GH¢82 billion after restructuring old bonds for new ones at much-reduced coupon rates and longer tenors.

MA/NOQ

Watch the latest edition of BizTech and Biz Headlines below: