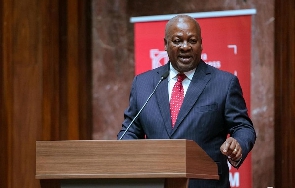 Former President John Dramani Mahama has described corruption as an instrument of murder due to its potential to result in the loss of citizens' lives because of the absence of critical public infrastructure and services.
He expressed this viewpoint while serving as a Special Guest at the Nigerian Institution of Estate Surveyors and Valuers' 53rd annual national conference held in Ilorin, Kwara State.

During his address, Mahama highlighted the global challenge posed by corruption and emphasised the need for a united response and international cooperation in combating it.

He stated, "Because corruption is a global challenge, its scope and seriousness have led to calls for a worldwide response and cooperation in the fight against It," he added.

Mahama further elaborated on the severe consequences of corruption, explaining that when surveyors, architects, and engineers endorse poorly constructed or substandard infrastructure projects such as roads, bridges, buildings, or railways, it can lead to loss of lives due to fatal accidents.

He stressed the importance of ethical governance and responsible actions in both the public and private sectors to prevent such tragedies.
"Corruption can be described as an instrument of murder because its effects can lead to loss of citizens lives due to deprivation of critical public infrastructure and services. Surveyors, Architects, and Engineers who sign off on poorly constructed or shoddy infrastructure projects like roads, bridges, buildings, and railways can lead to loss of lives due to fatal accidents," he added.

Describing corruption as an economic malady, Mahama emphasised that it signifies poor governance and ethics across various contexts.

He cited the World Bank's definition of corruption as the abuse of public office for private gain in the public sector, while Transparency International (TI) defines corruption within the private sector as the misuse of entrusted power for personal benefit. Regardless of its form or context, he emphasised the necessity of combating corruption in both the public and private sectors.

Mahama highlighted three essential elements for corruption to occur: the existence of discretionary power, the association of economic rent with that power, and a low probability of detection or punishment within the governance or legal system.

YNA/WA