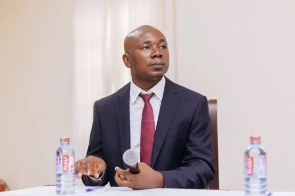 Economist Prof. Godfred Bokpin has explained how election-related expenses in 2020 is also to blame for current economic woes the country is facing.
He holds that government took advantage of COVID-19 funds to overspend. hence ballooning the fiscal deficit of Ghana in 2020.

He was responding to issues around the Auditor-General's report on how COVID funds were expended by government.

In citing some reasons for the damning audit revelations, Prof Bokpin said: "Lack of value for money, COVID vaccines that have been paid for that were not delivered and some COVID related inflows that were rather channelled into general budget support and the rest of them.

"Why was that so, because COVID also happened in the year of elections, so government was abusing public finance in the name of COVID-19," he stressed.

According to him, government "took advantage of the COVID and overspent and our fiscal deficit… in fact Ghana's fiscal deficit was the highest in the sub-region." He explained that whiles neighbours were hovering around sub 8%, Ghana in 2020 did more than 15% of GDP.
"So, the current crisis we have here, you can also trace it to the election-related excesses of 2020 that government blamed on COVID," he stressed.

Auditor-General's report on COVID-19 spending

The Auditor-General released a report on government's expenditure during the COVID-19 pandemic covering the period between March 2020 to June 2022.

The special audit report has been prepared under Section 16 of the Audit Service Act, 2000 (Act 584) for submission to Parliament.

It detailed the various expenditure made by Ministries, Departments, and Agencies during the aforementioned period.
The report noted that records on COVID-19 funds at the Ministry of Finance, Controller and Accountant-General and Ministry of Health indicated that, the Ministry of Finance mobilised a total amount of GH¢19,112,318,205.12 in 2020 to mitigate the impact of the COVID-19 pandemic.

The records showed that an amount of GH¢1,978,551,137.46 was mobilised in 2021 and GH¢753,319,842.66 (up to June 2022) to finance the Coronavirus Alleviation

Programme and the implementation of the Ghana COVID-19 Emergency Preparedness and Response Plan.

In all, a total amount of GH¢21,844,189,185.24 was mobilised to mitigate the impact of COVID-19 pandemic in Ghana.

SARA/DO