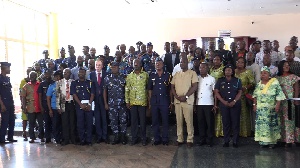 Tue, 26 Jun 2018 Source: Eye on Port
The Customs Division of the Ghana Revenue Authority (GRA) has inaugurated a Joint Customs Consultative Committee (JCCC) in Tema.
Issues to be looked at by the committee will be on transit, the procedures for examinations, paperless transactions and collaboration between agencies.

"The most recent reform which is the implementation of paperless transactions and joint examinations is for swift and cost effective clearance of goods at the port", Commissioner of Customs Division, GRA, Isaac Crentsil.

Representatives of stakeholders present were from the Ghana Ports and Harbors Authority, Ghana Institute of Freight Forwarders, Ghana Standards Authority, Food and Drugs Authority (FDA), among others.

The Commissioner General of the Ghana Revenue Authority, Emmanuel Kofi Nti said the committee will target revenue collection, trade facilitation, and the protection and security of goods cleared at the various ports.
"We need to have a good relationship with our stakeholders, so that we would not be the whipping boys of the stakeholders. But we collaboratively and cooperatively would work with them and then be able to raise the revenue that we need for the state", he asserted.

The Marketing and Cooperate Affairs Manager of the Ghana Ports and Harbors Authority, Abena Serwaa Opoku-Fosu stated that GPHA is working together with Customs to minimize the time of doing business at the port so as to increase revenue.

"The committees that are going to be working, would do it with the sacred duty that we are going to build a better Ghana for everybody" she said.

The representative for the JCCC at the Kotoka International Airport lauded the formation of the committee saying that it will create a good platform for collaboration between stakeholders.
Source: Eye on Port