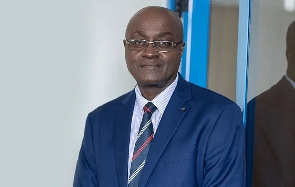 Banking Consultant, Dr. Richmond Atuahene has called for the urgent operationalization of the Financial Stability Fund in order to safeguard the banking sector.
The Bank of Ghana following the announcement of the Domestic Debt Exchange Programme (DDEP) announced a set-up of a 15 billion cedi stability fund to provide liquidity support for struggling institutions.

However, Dr. Atuahene says the prompt implementation of the fund is non-negotiable as banks are at risk of collapse.

According to him, research into the books of the banks reveals banks stand to lose some 6.1 billion cedis as a result of the DDEP.
Speaking to Starr News with Edem Kojo, Dr. Atuahene further added that this could in effect have detrimental consequences on business and economic growth.

"If the fund is not operationalized and institutionalized it is going to be very difficult for the banks to lend to the private sector because they will not have enough funds to support the individuals. So there is a need for us to have seen all these things and have a strategy to address these possibilities.

"Because we are not the first country to have done this. We are also replicating what has been elsewhere but they did it in a sort of proactive engagements and discussions before it actually came into being. And people bought into it and they had good participation and what we have I don't think it is even 60 percent," the banking consultant indicated.