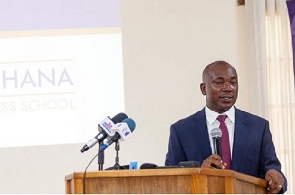 An economist, Prof Godfred Bokpin, has opined that the losses experienced by banks in the 2022 financial year may be the worst that could happen due to the domestic debt exchange programme.
He explained that most foreign banks have presented strong balance sheets and have given the assurance that they would re-strategize to prevent more losses.

"To a large extent, people will be concerned but I want to believe that the worst moment is over.

"If you look at the first quarter results for some of them, even though some of us have a little bit of an issue with the treatment of Treasury Bills in terms of the payment as compared to the medium term because it is the same borrower, but with the foreign banks, they have a very strong balance sheet from the group bank. In the case of Stanbic and the others, you will see the assurance of the group that they are going to recapitalize their banks, so there is no cause for fear, there should be no reason why we should have a run on those banks," he was quoted by 3news.com.

On the side of domestic banks, he also noted that they will be adequately capitalized since the Bank of Ghana has given banks some grace period and the removal of the 3 percent capital conservation.

"But when it comes to the domestic banks, if you look at those that have been impacted heavily, GCB and the rest of them, actually that is also on the strength of the government balance sheet, you will see that some of them have capital adequacy ratio that is very low even though Bank of Ghana decided to remove the 3 percent capital conservation buffer in order to accommodate the effect of the DDEP.
"I believe that in consultation with the central bank, there will be a grace period they can adequately recapitalize. I am sure that almost all the banks will be going through the capital planning process to ensure that all their banks are adequately capitalized," he said.

Prof Bokpin stated that the challenge will however be that, most banks are not robust enough to withstand certain shocks in the short term.

He further added that "But I think if you are looking at the effect in the immediate that is where the issue is whether banks are robust enough to be able to support growth and employment generation, that is where the issue is because some have expressly indicated that they will cut back on their lending."

SSD/FNOQ