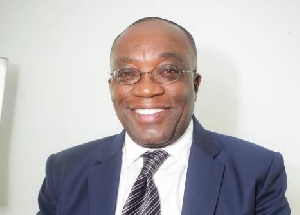 The Chief Executive Officer (CEO) of the Driver and Vehicle Licensing Authority (DVLA), Mr. Kwasi Agyeman Busia, has been nominated for the Public Sector IT Man of the Year Award at the 8th Ghana Information Technology and Telecom Awards (GITTA) 2018 held at the Movenpick Hotel in Accra.
The nomination was spurred by Mr. Busia's visionary leadership and ICT-driven innovations noted to have impacted positively on the operations of the DVLA since he assumed leadership of the agency.

An elated Mr. Busia expressed gratitude to the Transport Minister, the Chairman and Members of the Board of Directors and Management of the DVLA for supporting his vision and their collective contribution towards improving the services and management of the DVLA.

Since he took over office in 2017, Mr. Busia quickly defined his vision for the Authority. A vision for 'AN AUTONOMOUS, EFFICIENT AND SUSTAINABLE DVLA' hinged on the following pillars: service optimization, financial autonomy and sustainability, customer focus, human capital development, research, business development and innovation.

Mr. Busia ensured that he succinctly communicated this vision to his Board and Management members and solicited their support in ensuring its successful realization.

Today DVLA clients are testifying to the new face of the agency especially as they put it 'the Prestige Centre at their Head Office and Premium Centres at the regional offices.'
Mr. Busia said he was determined to add a 3rd main service category to the two existing service categories (Driver Licensing and Vehicle Licensing) i.e. Research and Data Analytics.

He said: "The Research and Data Analytics Stream will provide the basis for continuous innovation at the DVLA whiles providing critical real-time services to other stakeholder institutions both in the private and public sector".

GITTA is the most prestigious awards programme in the industry, with its sterling status earning the "Oscar Awards" for excellence in the Ghana ICT sector.

Over the years, besides promoting excellence in the telecom sector, GITTA has evolved and extended its wings to include companies which have taken efforts to innovate their businesses through the adoption of technology.

GITTA has become one of the industry's most recognised honours. It is an accolade given to individuals and teams. And is a vindication of the hard work, innovation and dedication of those at the forefront of this dynamic global profession.