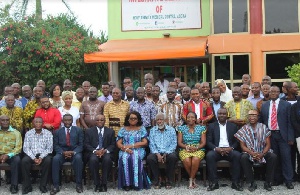 Sat, 2 Sep 2017 Source: Francis Tuffour
The Chief Executive of the Driver and Vehicle Licensing Authority (DVLA) Authority Mr. Kwasi Agyeman Busia has said the time has come to efficiently work together to meet the satisfaction of clients where services would be delivered to them on time.
He said corruption and unnecessary delays, which the Authority is known for, is gradually giving way to optimised service delivery towards building a respectable public institution of trust.

Mr. Busia said this at a four-day strategic review conference at Sogakope on the theme, "Accelerating Growth through People, Processes and Technology''.

He said the Authority is rebranding its image and activities to meet the growing expectation of the public.

The Chief Executive said it is the intention of DVLA to reposition itself and uplift its public image by resealing leakages and protecting the security of its operations to the admiration of the public.

He said the Authority is also strategizing its activities to wean itself off government subvention and called for support from the staff to work assiduously to meet its expectation.
Mr. Busia made a presentation on the strategic vision of the Authority and hinted of plans to construct new offices in Weija and Oda and a move to collaborate with the Environmental Protection Agency to implement emission system at all private vehicle testing stations to check smoke emission.

A speech read by Nana Obeng Kumi II, on behalf of the Board Chairman, Mr. Frank Davies said, the Board has confidence in the Chief Executive and management and is optimistic that with the support of the staff they would put the Authority on a higher pedestal.

Mr. Davis said the dawn of a new DVLA that is responsive to customer needs and satisfaction has come and urged the staff to collaborate in the discharge of their work.

Unfortunate, he said, the name of the Authority has been in the news for some unacceptable reasons, ranging from customer frustrations to clients being offered unauthorized services by unauthorized persons.

Such phenomenon, he said, dents the image and integrity of the Authority and also leads to massive revenue losses.
Mr. Samuel Lodonu, the Volta Regional Manager of the Authority, said it is time the Authority reviewed some of its processes, which appear bureaucratic and allowed 'goro boys' to operate.

According to him, it is time the Authority switched to full automation to aid and facilitate secure, reliable and real time service delivery to its cherished clients.

"I think this is the opportune time for the Authority to take a second look at some of its processes since it is obvious that some of the requirement and procedures for some of the activities push our prospective clients to the 'goro boys' when the clients become frustrated," he said.

There were presentations from the State Enterprises Commission, Ministry of Finance, Public Services Commission, Xplain Consult and L'áine Services.
Source: Francis Tuffour