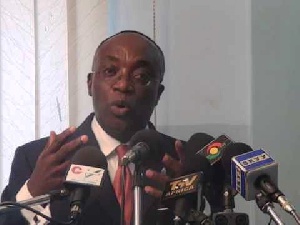 Mr Kwasi Agyemang Busia, the Chief Executive Officer (CEO) of the Driver Vehicle and Licensing Authority (DVLA), has called for the regularization of tricycles for public transport in the country.
Section 128 of the Road Traffic Regulations Act states that, "the Licensing Authority shall not register a motor cycle or tricycle to carry a fare paying passenger".

Thus, the use of the tricycles in carrying fare paying passengers which has become common nowadays breached section 128 of the Road Traffic Regulations, 2012, (LI 2180).

But, Mr Busia said its usage was making significant impact on the socio-economic livelihoods of people in rural and deprived areas in the country, hence the need to regularize it.

Being accompanied by the Board of Directors of the DVLA, Mr Busia was on a day's visit to interact with staff to acquaint himself with the operations of the Authority in parts of the Brong-Ahafo Region.

The CEO said due to the economic importance of tricycles in the society nowadays, there is the need to legalize the use of them for public transport, and regulate activities of operators in the interest of the nation.
Mr Busia condemned the corruption menace that he said had "ill" affected the reputation of the DVLA, stressing that since the Board assumed office, it had been working tirelessly to uplift the image of the Authority.

He said without the support from staff, the several reforms going on at the DVLA could not achieve the required results, and advised the staff to support, as Management worked to improve on their working conditions and welfare.

Mr Busia said it was because of their welfare that Management created the Human Resource Department to look into their promotions, trainings and working conditions.

He tasked employees to increase productivity, by ensuring particularly the provision of excellent and efficient service delivery to customers.

Mr Frank Davies, the Chair of the Board of the Directors, said the Authority was gradually becoming autonomous and advised the workers to be innovative and creative to increase productivity.