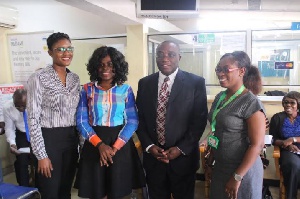 Sat, 9 Sep 2017 Source: Francis Tuffour
Three staff at the Accra (37) office of the Driver and Vehicle Licensing Authority (DVLA) were honoured for their meritorious service to the Authority.
They are Ms. Rebecca Osei Kissi, Executive Officer, Ms. Priscilla Amegashie, Administrative Officer and Mrs. Maama Riberio, also an Administrative Officer.

In an address, the Chief Executive of DVLA, Mr. Kwasi Agyeman Busia said the award was instituted to honour loyal, dedicated and deserving staff who have distinguished themselves in their line of their work.

He said the Authority has been instituted by an Act of Parliament for a specific purpose and it behoves the staff to discharge their duties diligently without expecting any reward(s) from clients.

He said it is always important to show positive attitude towards work and urged the workers to work with passion.

The award, Mr. Busia said, the award scheme was to appreciate the staff for their dedication and to motivate others to work and said it would be extended to other stations across the country.
Motivation, Mr. Busia said, is key in every endeavour to inspire and cited the financial institutions and other organisations where deserved personalities are honoured periodically and sometimes the awardees published in the media to spur other staff on.

He touched on steps being taken to brand the Authority and urged the staff to do their best by setting a target in that regard.

Reading the citation of the awardees, the Deputy Director and Head of the Accra (37) office Alhaji Hussein Iddrisu, said the three distinguished themselves creditably hence the honour.

He said Mrs. Riberio joined the Authority recently and had intense orientation on the Driver Training, Testing and Licensing and the Vehicle Inspection and Registration Departments respectively.

Though Mrs. Riberio had spent very little time on the job, Alhaji Hussein said her interest and concentration on the work is helping to project a positive image for the Authority.
'It is amazing that she has demonstrated an extra-ordinary attitude required for customer satisfaction'. For instance, he said, the Peru Embassy by an appreciation better dated July 26, this year, did not mince words on this fact'.

According to the Regional Manager, the Embassy recounted the invaluable service that Mrs, Riberio offered when its staff came to the Premium Service section to acquire a service.

Touching on Ms. Amegashie, Alhaji Hussein said, she started as a National Service person and became a permanent staff in November, 2016.

Ms. Amegashie, he described as a very dedicated staff who pays attention to details in the line of her work.

'These enviable attributes do not only bring her closer to other staff but most importantly plug leakages and maximize revenue' noting she vets and ensured that every payment due the Authority was not compromised not even with a bargain from the customer to enrich her individual purse. Her attitude towards customer service, the Regional Head said, had been on point and that was also acknowledged by the Colombian Embassy.
On Ms. Rebecca Kissi, the Deputy Director said, she also started as a National Service person and was later maintained on attachment due to her dedication to work and she finally gained employment in December, 2016.

'She committed herself to ensure that all manual C of C data was converted into an electronic form even to the detriment of her sight', he said.

According to the Regional Boss, Ms. Kissi now reads with glasses (spectacles) unlike before.

Nevertheless, Alhaji Hussein said, Ms. Kissi continued to ensure that each manual C of C data is feed into the electronic data as and when it is generated.

'She is always glued to her desk at all times rendering quality service to applicants on licence data, no wonder, she was among the few individuals who were retained during the recent staff downsizing exercise'.
Ms. Amegashie, on behalf of the awardees, expressed gratitude to the Chief Executive and Management for the honour and pledged their determination to work harder to uplift the image of the Authority.
Source: Francis Tuffour