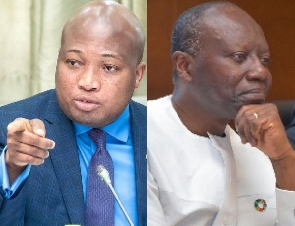 The Member of Parliament for North Tongu, Samule Okudzeto Ablakwa has stated that he has not received any personal donation from the Minister of Finance, Ken Ofori-Atta on his visit to North Tongu.
Speaking on Starr Chat with Bola Ray, the lawmaker stated that the impression being created with pictures that he has received a donation on behalf of the flood victims is false.

"It is important to clarify this point that I have not received any personal donation from the Finance Minister. I hope that those pictures and the focus to create the impression as if I have received something. Because if you look at the pictures carefully it was when I was taking him on a tour and showing him the level of devastation and he was really shocked.

"He told me that the media had not captured it fully and he repeated it in the budget statement that he was totally shocked. He couldn't believe the level of devastation," Mr. Ablakwa stated.
Over 12,000 residents in the North Tongu area alone have been affected with well over 1,500 houses affected by the Akosombo Dam Spillage, according to figures released by the National Disaster Management Organization (NADMO).

The figure is in excess of 26,000 for all the eight affected districts which also include South and Central Tongu, Anlo, Asougyaman, Ada East and others.

But after weeks into the disaster, there appears to be no plans on the part of the government on the resettlement of victims whose houses have been pulled down by the floods with the displaced victims still stuck in the various camps under very uncomfortable conditions.