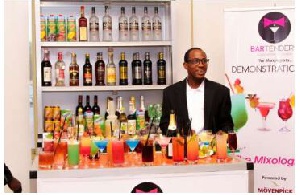 Sat, 27 Aug 2016 Source: GNA
Mr Daniel Raynold Tetteh, President of the Ghana Bartenders Association, has called for training packages for bartenders, saying "bartender role is timeless."
He said unfortunately, with all the commitments made by both the sector Ministry, Ghana Tourism Authority, Ghana Tourism Federation (GHATOF), none of the training packages has had any content for bartending, apart from generic hygiene training programs.

Mr Tetteh, at the inauguration of the Bartenders Association of Ghana, said it is rather the beverage companies such as GGBL/Diageo that has been running occasional workshops for bartenders in the mixing of their brands.

Bartenders mix and serve beverages and drinks. They are usually employed by restaurants, hotels, bars, taverns, banquet halls and other hospitality establishments.

Bartending, simplified, means helping customers with the menu selection, taking their orders and serving food & beverages in a welcoming, courteous and efficient way to attain the utmost level of guest satisfaction.

It also includes mixing and garnishing beverages, keeping the bar well-stocked and organized, and maintaining cleanliness of the bar area.

Mr Tetteh said the Association would engage itself in developing professional bartending in Ghana through knowledge, innovation, service and skills transfer both locally and internationally.
"We will offer professionals with good training, education, workshops and sensitisation programmes for bartenders or aspiring bartenders," he said.

"Bartending is an art, a science, and a skill. It transcends flair, customer service, bar management, nutrition and food science, dietetics, bromatology, and sensory perception. I believe this is not a job that should be reserved for dropouts," he added.

The Bartenders Association of Ghana (BTAGH) was founded in 2014 as a non-governmental organisation for Bar Staff, Baristas, Sommeliers, Connoisseurs, and Enthusiasts, with a mission to take leadership of workforce development in professional bartending in Ghana through knowledge, innovation, service and skills transfer both locally and internationally, career progression pathways via lifelong learning, networking within the wider hospitality and tourism industry and to promote regional cultural drinking customs at competitive gastronomic events.

BTAGH is working to become a member of the International Bartenders Association (IBA) with the goal of giving Ghana International representation in the Global Bartending Community

Mr Jean Lukaz, an expert trainer and Honourary Executive Secretary of bartenders, said bartenders play a vital role in the hospitality industry in Ghana, 'aside from their services to customers; they engage and entertain customers with their art.'

He said most of bartenders in kiosks were ladies and they sell a lot and earn a lot of tips but it all come at a cost- "they are prone to being touched and groped by drunk customers both new and regulars…and their partners understand that it is part of the bartending service culture, not an offence."
He said bartending investigates recipes, explores old recipes, invents new recipes, introduces new tools, ingredients, and methods to demonstrate the scientific nature of the profession.

Mr Charles Osei-Bonsu, Executive Director of the Ghana Tourism Authority, commended the inauguration of the Association, and called for professionalism in their service delivery.

Mr David Nana Anim, President of the Ghana Tourism Federation (GHATOF), also commended the Association saying it has become the 25th member of the federation.

The Ghana Tourism Federation is an umbrella body for associations in the hospitality industry.
Source: GNA