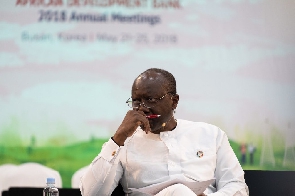 The Institute of Chartered Accountants, Ghana (ICAG) has urged government to be prepared to account for losses from the proposed Domestic Debt Exchange Programme (DDEP).
"ICAG has made submissions already in the process, and some of the submissions are tilted to the fact that the debt restructuring will definitely have implications for financial reporting; and what we stand by is that International Financial Reporting Standards are to be complied with, because there will be losses which must be accounted for. They must be recognised in the financial statements, and that is where we have to go," said the Institute's president, Sena Dake.

She said this at the 40th graduation ceremony of the Institute in Accra, and noted that if best accounting practices are adhered to in the DDEP this will restore investor confidence.

She meanwhile added that it is high time the knowledge-based organisations like ICAG came together to contribute toward getting the economy back on the path of growth.
"ICAG stands for the people, prosperity and sustainable development, which are best enabled by peace, justice and strong institutions. It has become very important that accountants and other key stakeholders collaborate in the nation's socio-economic development and contribute to government's decision-making process," she noted.

While addressing the graduates, she stated that: "It is time we paid attention to and recognised the key roles that professional accountants play in creating, verifying and giving assurance on high-quality sustainable information as enablers and trusted advisors. As we attempt to navigate out of these trying times, it is especially important for professionals like us to serve as strong watchdogs.

"We must speak up against any administrative attempts to spend outside our limits; we must push back and strongly advise against any attempts to make decisions that will not be in the best interests of the public and posterity. Most importantly, our work must advance sustainability, support sound public financial management, resist regulatory fragmentation and embrace global collaboration."