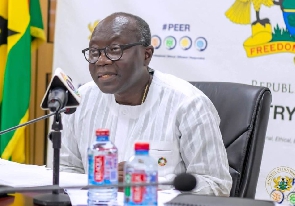 The Minister of Finance, Ken Ofori-Atta, has told individual bondholders who have asked to be excluded from the debt exchange programme that it is not compulsory for them to he part.
According to the Minister, the debt exchange programme is voluntary.

He said no bondholder is bound to accept the terms of the programme.

He was addressing the media and bondholders who had met with him on the matter.

He revealed that the government is targeting an 80percent participation in the programme.
The move is aimed at helping the government address the economic challenges confronting the country.

"It is a voluntary programme and the expectation is that we have an 80 percent participation and so, that should be factual for everybody," Mr Ofori-Atta said.

The debt exchange programme seeks to encourage bondholders to voluntarily exchange GH¢137 billion domestic notes and bonds of the Republic including ESLA and Daakye for a package of new bonds.