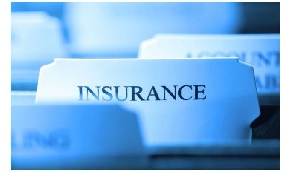 The Chartered Insurance Institute of Ghana (CIIG) has said that more than 7.5 million insurance policyholders in Ghana will be affected by government's intended Domestic Debt Exchange Programme (DDEP).
President of the Institute, Solomon Lartey, believes that the programme will adversely impact insurance firms who are at risk of defaulting on payment of daily claims worth GH¢4.5 million to policyholders in Ghana.

Addressing journalists on the sidelines of the Investiture Ceremony of the Governing Council of the CIIG, Mr Latery explained that over 40 percent of funds in the insurance sector are invested in government securities adding the DDEP will also affect investor confidence.

He further added the programme would impact insurance penetration which has been making giant strides over the past few years.

The CIIG president is therefore calling for the exemption of the insurance sector from the Domestic Debt Exchange Programme (DDEP).

Meanwhile, the Ghana Insurance Association (GIA) has also expressed concern over the Debt Exchange Programme and its associated impact on the insurance sector.

It noted that apart from defaulting on payment of daily claims, the DDEP will compound underwriting losses made by insurance firms operating in the country.
In the third quarter of 2022 alone, the GIA said records show that insurance firms in the country made total underwriting losses of about GH¢356 million.

"Since the industry is making underwriting losses overall, it means that insurance companies rely on investment income to meet their claim obligations to policyholders. Therefore, any debt exchange programme will negatively affect our ability to pay claims and lead to asset-liability mismatch," the GIA stressed.

"Taking into consideration the fact that insurance companies are making underwriting losses, the effect of the debt exchange programme will be so devastating that there will not be an insurance industry after we surmount the economic challenges," it added.

As part of efforts to secure an IMF bailout and address the country's unsustainable debt situation, government launched the DDEP inviting bondholders to voluntarily exchange approximately GH¢137 billion domestic notes and bonds of the Republic including ESLA and Daakye for a package of new bonds.

The DDEP has since received rejection and backlash by various groups of bondholders who have urged their members not to sign unto the debt restructuring exercise of government without proper consultation and consensus.

MA/FNOQ