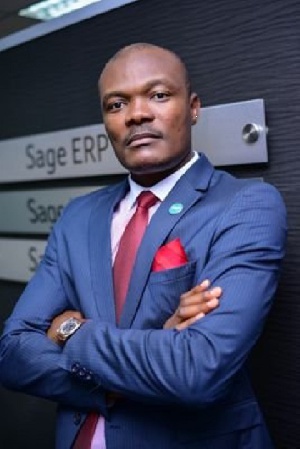 Ghana should also look at how investments in roads, power and telecoms – in partnership with the private sector – might drive growth by lifting productivity; it could also be a way to create opportunities for small businesses through procurement
The party that emerges as the winner of the country's general election, to be held on 7 December, should seize the opportunity to drive economic growth by creating policies and a legislative environment where business builders can thrive.

That's according to Magnus Nmonwu , Regional Director for Sage in West Africa, the market and technology leader for integrated accounting, HR & payroll, and payment systems. He says that improving the ease of doing business as well as setting sound macro-economic policies would help to generate GDP growth for the Ghanaian economy. Small & Medium Businesses are an engine for job and wealth creation in several growing economies around the world.

Business-friendly environment

Says Nmonwu: "Ghana has been an exemplary democracy for the past two decades and made some impressive progress in reducing poverty during the last commodities boom. With its sound legal system and a regulatory environment that gives businesses stability, it is one of the most business-friendly countries in sub Saharan Africa."

"We believe that the time is now ripe for the government to collaborate more closely with the private sector on ways to create jobs and raise income levels. With an estimated 90% of businesses in Ghana being Small & Medium Businesses (http://APO.af/xamu4J), this sector generates and drives much of Ghana's income and employment. Supporting it can rekindle economic growth for the country."
Nmonwu says that one of Ghana's most significant economic opportunities lies in diversifying its economic base and boosting exports. Government can support these opportunities through targeted investments in infrastructure, education and vocational training, and small business financing. "We have seen some interesting initiatives in recent years," he adds.




Financing remains a challenge

"For example, the launch of the Ghana EXIM (Export Import) Bank addresses the need for financing if business builders in the country are to grow the small business sector and exports. Financing remains a challenge for many smaller Ghanaian companies, so providing them with low-interest loans is an intervention that will make a difference."

Another area where focus could pay off is skills development, particularly with an emphasis on the science, technology, engineering and mathematics skills needed to boost the economy into the digital age and services economy. Ghana should also look at how investments in roads, power and telecoms – in partnership with the private sector – might drive growth by lifting productivity; it could also be a way to create opportunities for small businesses through procurement.
Modernising government IT

Modernising the government's ICT system is another opportunity, Nmonwu says. "By implementing the right accounting, payroll and citizen interaction systems, the government can improve efficiencies while showing its commitment to accountability and transparency," he adds. "It can also use online technology to make it easier for entrepreneurs and individuals to interact with the government."

"Entrepreneurship has the potential to power the economies in West African countries. It is entrepreneurs who are the drivers of prosperity, and it is in government's interest to support them," he says. "Business builders take risks to follow their dreams and pursue their passions, and they hold the key to West Africa's prosperity."