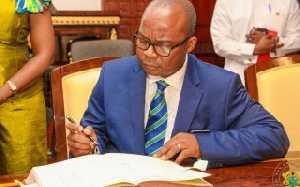 The Bank of Ghana has warned against "unlicensed deposit-taking activity" by Oboanipa Ventures Limited.
In a statement signed by Secretary Caroline Otoo, the bank said Oboanipa Ventures Limited is operating a deposit-taking business without the requisite licence.

It said Oboanipa is operating contrary to section 6 (1) of the Banks and Specialised Deposit-Taking Institutions Act, 2016 (Act 930).
The central bank has, thus, through the statement, informed the general public that Oboanipa Ventures Limited has "not been licensed" by the Bank of Ghana "to engage in any form of deposit-taking business."

"Anyone who does business with Oboanipa Ventures Limited does so at his/her own risk," the bank warned.