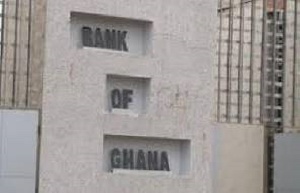 Brick and mortar banking firms risk extension in the next five years, as technology-driven banking services continue to dictate the direction of the industry, the Bank of Ghana (BoG) has warned.
Dr. Settor Kobla Amediku, Head of Payment Systems Department, BoG told the B&FT that: "We have all now seen that the old age of brick and mortar banking is dying. Any bank which does not want to go digital will in the next five to 10 years face serious challenges."

His call comes at a time when banks are facing disrupters, including financial technology firms (fintechs) in the payment system space and telecom companies that are continually expanding their mobile money services to attract millions of customers.

Data from the Central Bank shows that while banks have a branch total of 1,346 from over 100 years of banking in the country, the number of mobile money agents over a period of less than 10 years has now reached 107,000 natiowide.

While the number of bank account holdersstand at about 11.4million, the number of mobile money account holders has shot up to over 20million in such a short space.

As at May, 2017, the total amount on mobile money float has gone up to GH¢1.54billion from GH¢547million in July, 2015, when the Bank of Ghana issued e-money guidelines.
Speaking at the launch of GT Bank's payment and connection platform, www.myghpay.com, Dr. Amediku warned that banks will be losing customers if they do not innovate.

But in a sign that banks are waking up to the realities, albeit late, Dr. Amediku noted that credit card growth as at the end of December, 2016 was over 70percent.

"In the past, credit card usage and ownership was for the affluent in society and banks were not ready to issue them. Now my table is full with a lot of applications coming from banks to be given authorisation to issue credit cards," he said.

To him, the overall objective of the Central Bank is to promote effective monetary policy, stabilise prices and promote financial stability. "When we have more money moving from circulation into the banking system, it makes our monetary policy effective," he said.

Dr. Amediku noted that when GT Bank submitted the application to roll out this service, looking at the various advantages it will inure to all, including the unbanked, the BoG quickly fast-tracked the application.
"We want to congratulate GT Bank as one of the very innovative banks to come into this space. This product is a game changer; however, you need customer education. You have to pursue a very intensive education to let people know what we have," he said.

Lekan Sanusi, Managing Director of GT Bank, noted that myghpay.com is the solution to payments for everyone. "It is an integrated and secure online hub, that has been designed to enable businesses, organisations and associations to sell and collect payments with a Visa or MasterCard issued by any bank in the world, MTN Mobile Money or GH-Link card from any bank.

It is also a convenient platform for individuals and organisations that intend to patronise or pay the businesses on the hub," he said.

He added that the platform also offers convenience for the payment of utility bills, booking and paying for travel and tours, payment of educational fees, making investment contributions, statutory contributions and a destination for patronage and payments shop.

"As a payment platform, myghpay.com is open to all, as its patronage is not restricted to customers of GT Bank alone. It is available to all individuals and organisations with duly issued Visa, MasterCard and GH Link cards. To widen its reach, the hub accepts mobile money," he added.