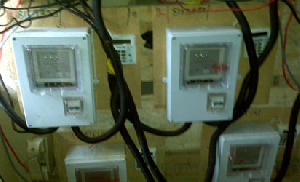 Fri, 24 Aug 2018 Source: Michael Cregg Afful
The Eastern Regional Commercial Manager for the Electricity Company of Ghana(ECG) Mr Emmanuel Sam has cautioned members of the public who have connected power illegally to immediately disconnect it or face prosecution if they are caught.
According to him, his outfit would no longer countenance on such illegality.

He explained that ECG expects those who wants to use power to use it the right way and not illegally since it comes with huge penalties.

"It is not right to steal power. In fact it is more expensive to steal power than to use power in the manner which is allowed. Because if you steal power and you're caught the penalty would be huge," he warned.

Mr. Emmanuel Sam gave the warning at a press conference in Akyim Oda on Wednesday, August 22, 2018 to address some pertinent issues facing the company in the region.

It would recalled that the newly appointed Energy Minister, John Peter Amewu on Monday vowed to deal with illegal electricity connection because it had become a drain on the country's economy.
Avoid Middlemen

He appealed to those who want to transact business with ECG to desist from engaging middlemen for any of their services.

Mr Sam who expressed serious concern about the activities of middlemen, urged customers to deal directly with ECG instead of middlemen especially when it comes to acquisition of ECG meters.

"Using middlemen will not help you. Whatever information you need when you come to our offices we have trained staff to attend to your needs. So those who come to stand at our gates and look for middlemen to help them for any of our services should stop," he advised.

Settle your bills
Touching on payment of bills, Mr Sam pleaded with customers to pay their bills on time in order to avoid disconnection.

He said it the money they collect from customers that is what they use to run the company, hence the need for them to pay for using their services.

According to him, government had to do a lot of work to end the dumsor therefore they would also plead with the customers to help by paying their bills on time.


Source: Michael Cregg Afful