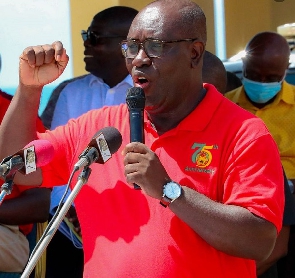 Secretary General of the Trades Union Congress (TUC), Dr Anthony Yaw Baah, has called on President Nana Addo Dankwa Akufo-Addo to stick to the Memorandum of Understanding (MoU) signed on December 22 last year on the exemption of all pension funds from the domestic debt exchange programme.
Speaking during the May Day celebration, he cautioned President Akufo-Addo to not touch the pension funds of TUC members.

According to Dr Yaw Baah, one of the priorities of TUC is to protect the pension funds of members from the domestic debt exchange programme.

He said, "We want to once again remind government that the memorandum of understanding he signed on December 22, 2022, stated clearly that all pension funds have been exempted from the Domestic Debt Exchange Programme, nothing has changed."

"So Mr. President please, do not touch our pension funds," the TUC Secretary General lamented.

Government of Ghana is seeking to revive the economy through a $3 billion loan from the International Monetary Fund.
As part of its efforts to meet the conditions required for the loan, the government introduced a domestic debt exchange programme aimed at varying the terms of existing government bonds.

Government on Monday, December 5, 2022, rolled out a debt restructuring programme to restore its capacity to service its high-rising debt.

Under this programme, all domestic bondholders were charged to exchange their instruments for new ones.

Existing domestic bonds as of December 1, 2022, were exchanged for a set of four new bonds maturing in 2027, 2029, and 2037.

The annual coupons on all of these bonds were set at 0% in 2023, 5% in 2024 and 10% from 2025 until maturity.
Watch the latest edition of BizTech and Biz Headlines below:







ESA/FNOQ