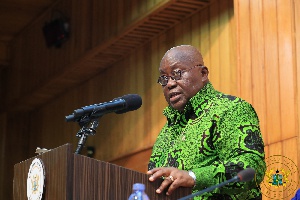 President Nana Addo Dankwa Akufo-Addo has urged both indigenous and foreign-owned banks operating in Ghana to invest and finance more risky ventures that can transform the Ghanaian economy.
Speaking as part of a six member panel moderated by BBC's Sophie Ikenye at the last plenary session of the 2018 African Transformation Forum (ATF), 2nd Edition, organized by the African Center for Economic Transformation (ACET) at the Movenpick Ambassador Hotel, Akufo Addo said one major constraint to the agenda of transformation of the country is access to and cost of capital.

This limitation according to him, is due to the fact that banks in Ghana have shied away from financing risky businesses and rather take interest in more passive activities.

"In our own country, Ghana, the banks have in the last twenty or thirty years been very content at making lots of money by doing very passive things and not being particularly involved in the risk taking that contributes to economic development and transformation," the President said.

The President further observed that the structure of Ghana's financial and banking sector has perhaps contributed to the lack of desire on the banks to take all the needed investment and financing risk.

"The foreign-owned banks are the main players in our economy and they have their own goals which are not necessarily about the development of the country but about the profits that they make. It is ok, I don't have any difficulties with people wanting to make money, but I do have a problem with making money in an environment whereby it is not making a significant contribution to the transformation of the economy," the President said.
The state according to the President, has a policy responsibility to ensure that good measures are put in place to strengthen indigenous banks to pick up the role of spearheading the financing of risky ventures in the country.

"Policy making that would promote indigenous banks in our country to grow and be strong and to take on the role of providing the financial well workshop for the transformation we are looking for. Without having banks that are ready to finance relatively risky ventures both in industrial and agricultural initiatives, it is going to be difficult in making the transition we are seeking," the President stated.

President of Rwanda, Paul Kegame in his submission during the panel discussion noted that there has been several discussions on the transformation of the African continent, however, it is now time to actually act on the many policies that have been developed.

He added that the vast resources, both natural and human available on the continent leaves the continent with no excuse as to why we should not be able to transform the Africa.