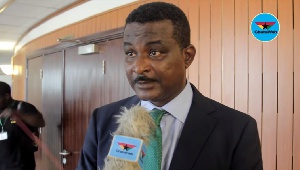 Wed, 20 Nov 2019 Source: Isaac Boafo
Kweku Ricketts-Hagan, the former deputy Minister of Finance in the Mahama administration and the Member of Parliament for Cape Coast South Constituency, has asked the government to downgrade the universal license of NIB, if it intends to turn NIB into a specialized bank to promote industrialization.
Speaking on the Floor of Parliament on Monday, Ricketts-Hagan said "Mr. Speaker contrary to what the Finance Minister wants us to believe that the banking sector is doing well—the banking sector is actually on its knees. It is not well capitalized, it's illiquid. The problems that we are facing in the economy at the moment, the real economy is as a result of the liquidity challenges that we have."

He went on to say, "So if NIB is on its knees, and you want to put GHS 2.2 billion in it, then it doesn't make sense. Because if in the end the Finance Minister wants to refocus NIB and make it a specialized bank to promote industrialization, then you don't actually need a universal license. So you should downgrade the universal license of NIB to make it an ordinary bank, whether commercial bank, investment bank or development bank, so that you are not exposed to the GHS 400 million that the Central bank is asking for as the Minimum Capital Requirement (MCR), because the capital requirement of GHS 400 million applies only to universal banks, so if you are going to recapitalize the bank, and in the end make it a specialized bank, then there is no point in that bank being the way it's been structured."

He also challenged the request in the budget by the Finance Minister for Parliament to approve a GHS 2.2 billion Put Call Option Agreement (PCOA) from Government to Ghana Amalgamated Trust (GAT) to enable it raise the money required to fund NIB via preference shares. This is to replace the Government Guarantee to GAT that was previously approved but has since faced a legal challenge in court.

He said parliament does not recognize GAT and it has not approved it, therefore it cannot approve the PCOA that the government is seeking on behalf of GAT.
GAT

Ghana Amalgamated Trust was set up in December 2018 as an urgent policy response to help support five (5) indigenous banks; Agricultural Development Bank (ADB), OmniBSIC Bank, Prudential Bank, Universal Merchant Bank and National Investment Bank as they were unable to raise equity to meet Bank of Ghana's new mandatory minimum capital of GHS 400 million by 31st December, 2018.

The government went to Parliament and successfully got approval to issue a Sovereign Guarantee for GAT to enable it issue bonds, and invest equity in the participating banks. However, the Sovereign Guarantee process was affected by a legal suit challenging the debt instrument to be issued by GAT for equity investment in the participating banks. The government has therefore brought in this new arrangement—PCOA to replace the Sovereign Guarantee to GAT that was previously approved.
Source: Isaac Boafo