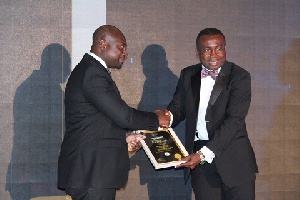 Chief Executive Officer of Commerz Savings and Loans, Dr. Edem Bart Williams has been awarded the Best Young Non-Bank Financial Entrepreneur for the year 2017 by the Entrepreneurs Foundation of Ghana (EFG).
He was adjudged as a successful young entrepreneur who has a proven track record of entrepreneurial excellence and also exhibited a high level of professionalism in the Banking and Finance Industry.

There were other distinguished Ghanaian entrepreneurs present with Dr. Bart Williams at the 8th Ghana Entrepreneur & Corporate Executive Awards & Gala Dinner 2018 at the Movenpick Ambassador Hotel in Accra.

Other award winners at the night included Dr. Nortey Omaboe, Mrs Yvonne Nduom, Yoofi Grant, Dr Daniel Mckorley, Dr Joshy Varkey, Dr Kwaku Frimpong Yolanda Zoleka Cuba among others.

The Foundation among other award winners acknowledged Dr. Bart Williams for contributing immensely to the development of Ghana throughout his journey as a young entrepreneur.

Dr. Bart Williams has served as consultant to several funders and networks like GTZ-Rural Finance Project, GHAMFIN, African Development Foundation (ADF) and Africa Project Development Facility (APDF) now PEP-Africa. He has also held various management positions including: Chief Executive Officer of Nordea Capital, Executive Director at Accent Financial Services, GM, Finance & Administration at Premier Capital Mining, Head of Strategy, Head of Consumer Banking as well as senior MIS and Credit Analyst at UniBank Ghana.
Dr. Bart Williams was an adjunct lecturer at the Business School of the Ghana Institute of Management and Public Administration (GIMPA). He also previously lectured in Banking, Finance and Marketing related courses in the business schools of the following Universities, Regent University, Data Link University and the African University College of Communication.

In an interview with the Founder, Dr. Sam Ato Gaisie, he expressed that "the awards was to identify, recognize and honor Entrepreneurs & Corporate executives who have exhibited superior performance that has helped them emerge out of poverty, create jobs and add value to society and also recognize CEOs who have led an organization to scale new heights in its respective industry segment, while also achieving excellence in corporate governance".

Dr. Bart Williams brings to Commerz Savings and Loans a deep knowledge and experience in the business of banking and finance, market research, product development, financial management & accounting system design and implementation, IT, Treasury & Funds Management, as well as business planning etc.

Dr. Bart Williams holds a PhD in Business Administration from the Nelson Mandela Metropolitan University, South Africa, MSc in Business Administration and Economics from Lulea University of Technology, Sweden as well as BSc in Banking and Finance from the Central University, Ghana. He is also a member of the International Research Association in USA having qualified as a Licensed International Financial Analyst. Other qualification includes a Postgraduate Diploma in Management from IPMA, UK and a graduate member of the Chartered Institute of Administration and Management Consultants.

He is an author of several publications in some of the top-notch academic journals including "determinants of internet banking adoption by banks in Ghana, "Initial objectives behind US and Swedish political parties", "e-politics and political parties' website communications" etc. He has also presented various scholarly articles in conferences both locally and abroad.