Business News Thu, 5 Oct 2017
Click to read all about coronavirus →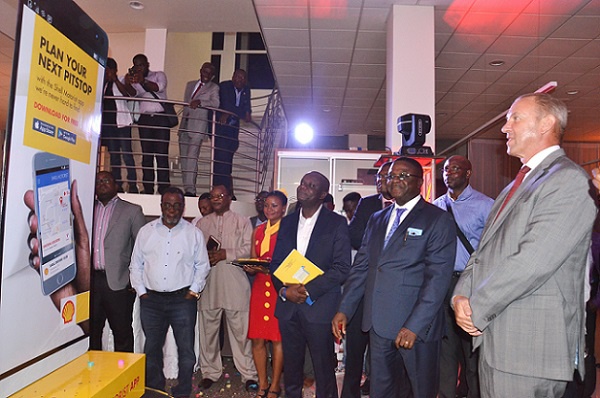 Vivo Energy Ghana, the exclusive licensee of Shell branded products has once again reinforced its leadership in innovation by launching onto the Ghanaian market, a new App for motorists with the most exciting and extensive features in the oil marketing industry.
The Shell App, which is available on Google Play Store for Android and Apple Store for IOS, gives all the information customers require about Shell to help plan their journeys, purchases, and oil changes. The app also locates quick service restaurants at all Shell service stations and offers motorists the opportunity to improve their driving efficiency.

Speaking at the launch, the Managing Director of Vivo Energy Ghana, Mr. Ebenezer Faulkner reinforced Vivo Energy Ghana's leadership in digital innovation in the downstream petroleum sector to meet the changing needs of customers.

"The Launch of the Shell App reinforces our commitment to bringing convenience to motorists to make their lives easier, simpler and more convenient in this digital era. We understand the changing needs of customers, especially their media habits, and wants to exceed their expectations" he said.

Outlining the features of the App which includes Shell Locator, News and Products, Mi Garage, Shell Drive and Tell Shell, Mr. Faulkner encouraged motorists to download the app and enjoy an even better travelling experience with Shell.

In a speech read on his behalf, the Minister of Energy, Honorable Boakye Agyarko, congratulated Vivo Energy for pioneering and introducing exciting fuels and products onto the Ghanaian market.
"Vivo Energy and its Shell-brand has been at the forefront of introducing exciting fuels and other products onto the Ghanaian market. These huge investments in expanding their service stations across the country demonstrate their commitment to developing the market in Ghana for their customers", said the Minister.

He further commended Vivo Energy Ghana for its exceptional safety performance, having achieved over 3,240 days, representing almost nine (9) years, without any major recordable incident. He also acknowledged the company's immense contribution in the area of sustainable community development.

Last year, Vivo Energy Ghana introduced the first multi-purpose and Visa-enabled fuel card, Ezypass in the industry. The recent opening of the state of the art Haatso Shell service station, with partners such as KFC, MBJ Pharmacy, Exotic trends, and ATM farms is testament to the convenience the company wants to bring to its customers.

About Vivo Energy:

With a vision to become Africa's most respected energy business Vivo Energy Ghana, the company that distributes and markets Shell-branded fuels and lubricants, was established in 2013. The Shell brand has been in Ghana since1928.
Vivo Energy Ghana has a fuels storage capacity of 11,000m³ and 215 service stations, with many offering Shell Cards and convenience retail stores.

Vivo Energy Ghana employs 147 people. The company is recognised as a leader in the oil industry, championing and setting standards for safety.

Vivo Energy provides high quality solutions for motorists and businesses in Botswana, Burkina Faso, Cape Verde, Ghana, Guinea, Ivory Coast, Kenya, Mali, Mauritius, Madagascar, Morocco, Mozambique, Namibia, Senegal, Tunisia and Uganda. Its retail offering includes fuels, lubricants, card services, shops and other non-fuel services (e.g. oil change and car wash). For businesses it provides fuels, lubricants and liquefied petroleum gas (LPG) to business customers across a range of sectors including marine, mining, and manufacturing. Jet fuel is sold to customers at 23 airports though a partnership with Vitol Aviation.

The company employs around 2,360 people, operates over 1,780 retail service stations under the Shell brand and has access to approximately 900,000 cubic metres of fuel storage capacity. Shell and Vivo Lubricants has blending capacity of around 124,000 metric tonnes at plants in six countries (Ghana, Guinea, Ivory Coast, Kenya, Morocco, and Tunisia) producing Shell branded lubricants.

For more information about Vivo Energy please visit www.vivoenergy.com
Source: Vivo Energy Ghana
Send your news stories to and via WhatsApp on +233 55 2699 625.