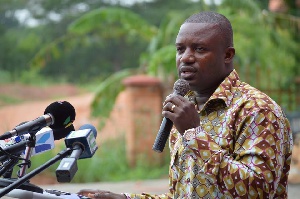 A former Deputy Power Minister, John Jinapor has warned that Ghana could lose out on the $500million ECG privatization package under the Power Compact II agreement.
His caution comes after one of the concessionaires that bid to manage ECG, BXC Consortium sued the Millennium Development Authority (MiDA) over what it described as an unfair treatment in the bidding process.

MIDA last week disqualified BXC Consortium and selected Meralco Consortium, a company led by Manila Electricity Company from the Philippines, to manage the Electricity Company of Ghana [ECG], under the Power Compact II agreement.

In a letter dated April 12, 2018, the Chief Executive Officer of MiDA, Martin Eson-Benjamin, explained that BXC Consortium was disqualified because the company has "one or more conflicts of interest", and, therefore, cannot continue with the bidding process.

Per the compact, the Millennium Challenge Corporation is expected to inject about $418 million into ECG, while Meralco will invest about $500 million.
Speaking Wednesday on Starr Today with Naa Dedei Tetteh and Atiewin Mbillah-Lawson Mr. Jinapor said the suit by BXC Consortium could throw the whole concession programme out of gear.

"It is important we quickly find a solution, conclusion and finality to this hydra-headed problem," he said.

He added: "This [suit] could throw the whole concession programme in disarray, so it is a very major concern, needing us to come to a conclusion to deal with this matter as soon possible."