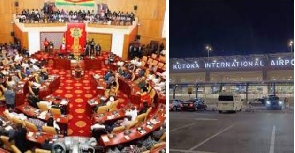 The Electricity Company of Ghana (ECG) on Monday, March 20, 2023, closed all its district, regional and head offices to embark on a month-long nationwide revenue mobilization exercise.
The exercise is expected to end on April 20, 2023, a statement from ECG stated.

Following this announcement, some top institutions in the country have been brought to bear by the power distribution company for owing them huge sums of money.

GhanaWeb Business in this article lists these defaulting companies.

Parliament of Ghana

Parliament of Ghana, according to ECG, owes them GH¢13 million. After holding a crunch meeting with them on Monday, Parliament paid GH¢8million out of the total amount to escape ECG disconnection.
Ghana Airports Company

The Ghana Airports Company Limited (GACL) on Monday, March 20, 2023, paid GH¢10 million out of the GH¢28 million debt it owes the Electricity Company of Ghana to avoid disconnection from the national power supply.

The Airport Company promised to pay the remaining balance it owes ECG within two weeks.

Ho Airport and Ho Technical University

ECG disconnected the power supply of Ho Airport for owing GH¢63,000. Ho Technical University, on the other hand, experienced 'dumsor' for being in debted to ECG of the tune of GH¢402,000.
GRA

In the same vein, the GRA office in the Volta region was also cut from the national grid for owing GH¢55,000.

B Plus Steel company

In the latest development, B Plus Steel company which owes ECG an amount of GH¢48 million has made a part payment of GH¢20 million.

Meanwhile, ECG has noted that they do not accept cash or cheques for debt collection.
According to the Managing Director of the Company, Samuel Dubik Mahama, all payments should be made through mobile money transfers or via pay-in slips at the bank.



Watch the latest edition of BizTech and Biz Headlines below:






Watch the latest edition of Business Moments below:





ESA/FNOQ