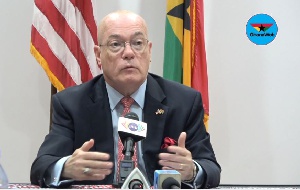 The immediate-past US Ambassador to Ghana, Robert P. Jackson, has indicated that the Electricity Company of Ghana (ECG) is losing a whopping amount of $8 million per week.
He said the money is being lost in the area of revenue collection which has reportedly been one of ECG's major challenges over the years.

Mr. Jackson made this known while addressing the Ghanaian media recently in Accra about the key activities the US Government undertook in Ghana during his two-and-half-year tenure.

According to him, even though there has been some level of reliable electricity supply to homes and industries across the country over the last three years, ECG continues to lose huge amounts of money weekly apparently due to weak management regime.

He stated emphatically "as all of you know, the power supply has become much more reliable over the last three years. But there is still a question of affordability, and ECG is still losing approximate $8 million a week."

"It's clearly not sustainable," he said, adding that things could improve at the electricity company if a private company takes over.

Mr. Jackson stated that "I think with different management and new infrastructure which will go with it, and huge infusion of cash both from the Millennium Challenge Corporation, part of the US Government and the private sector investor, we can see the number of people with reliable power going up and cost coming down."
The envoy prioritized the energy sector during his term in Ghana.

Private participation

He expressed the hope that Parliament would approve the management of ECG by a private entity from the Philippines, saying "I am very excited about this."

In March, this year, the Millennium Development Authority (MiDA) confirmed the receipt of proposals from two companies for the concession for the management, operation and investment in electrical distribution business of the ECG.

The Consortia comprise BXC Ghana and Manila Electric Company (MERALCO).

The move to allow private participation in the operation of ECG forms part of five activities under the ECG Financial and Operational Turnaround Project of the Ghana Power Compact Programme.
Assurance

Some staff of ECG have been agitating over the move, fearing the possibility of losing their jobs in the event that a private company takes over management of the company.

But Ambassador Jackson reiterated that the workers have been given a five-year employment assurance under the new arrangement.

Meanwhile, BUSINESS GUIDE has gathered that the private takeover of ECG would take place in February 2019.