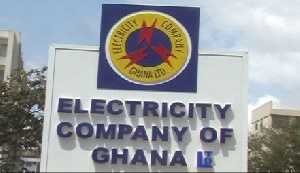 The Electricity Company of Ghana, (ECG) despite a host of challenges since the return of its distribution services from PDS netted a record level revenue last week, according to reports.
After recent changes at the top management level of the institution to further improve performance and consistency, revenue collection is improving steadily at the state own agency, much to the amazement of the board and the general staff.

Information gathered indicate that last week ECG on its confidential recording sheet, collected GHC147 million as bills from customers in various regions of operation, a figure that indicated a phenomenal increase from the previous weeks.

Within four weeks in office, reports suggest the new management led by Kwame Agyeman-Badu, is doing a good job by way of revenue collection.

It is gathered that the new management's diplomatic approach by way of hope of assurance and motivation for staff is culminating into an increase in productivity.

The MD in an internal memo congratulated the staff for the unprecedented feat and urged them to continue to give off their best to ensure the progress of the agency.
In a whatsapp message sighted by this reporter, Mr Kwame Agyeman Budu wrote, "Please permit me this very morning as I come to you with much excitement to tell you that last week, we had a record revenue collection of GHC147 million. This is unprecedented in the history of our company. And it is obviously as a result of your hard work, dedication, and commitment to your job.

"I, therefore, say a big thank you to you all for your immense contribution to achieving this figure.

"It is my prayer that you keep it up as we look forward to seeing further increments in the numbers. Yes, We Can!

"And please remember, If you see something; say something!"