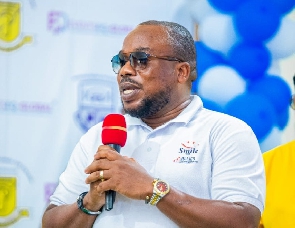 As Ghana is wallowing in economic crisis, the government has put some measures in place to ensure the local economy bounces back on track and remains resilient.
Speaking on this growing development, the Group Chairman of Allied Consortiums, Benjamin Kofi Quashie, has said for the Ghanaian economy to grow, the government has to encourage people, especially the youth to venture into entrepreneurship.

He further said the creation of an enabling environment for businesses to operate will lead to their growth and expansion.

This will subsequently lead to the creation of jobs for the teeming unemployed youth in the country.

In an interview with GhanaWeb's Ernestina Serwaa Asante on the sidelines of the AfCFTA Business Forum held in Capetown, South Africa, Mr Quashie said, "Once we are all concerned about growing our economy and making the economy dependent not only on government and enterprises, I think it is time we encourage businesses, entrepreneurship."
" I have said that in the 21st century and our globe as it is now, there should be a paradigm shift from government always doing things to corporate individuals always doing things. Entrepreneurship, to me, is the way to go," he pointed.

It would be recalled that in October last year, Finance Minister, Ken Ofori-Atta, admonished young people in Ghana to create their own jobs.

According to him, the government's payroll is full and has no more room for employment in the public sector.

"The future for you in regard to jobs is the most important thing for you at this stage, and we have gone through a period when most people look for a job from government or state institutions, but that payroll is full," the finance minister said.