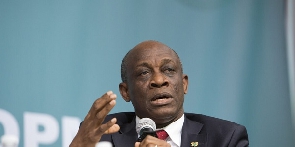 Former Finance Minister, Seth Terkper has stated that the result of high inflation can largely be attributed to economic mismanagement and reckless printing of money.
In a series of tweets, Mr. Terkper explained that the government should be measured in the printing of money to finance the budget or any other venture it sees the need for.

"As Government Bank, Bank of Ghana (BoG) manages the government's inflow and outflow of cash [consolidated fund] and manages monetary policy. Most of the forex it holds [reserves] are from Government [budget], private [eg, firms] & public [eg, COCOBOD] sector exports [less what it uses to facilitate pmt for imports].

"BoG is regulator for banks and supremo for financial or monetary sector. In these roles, it prints or controls currency in circulation. The volume of currency is gauged to finance the volume of underlying business, not an end in itself. Money is a "medium of exchange," Mr. Terkper stated.

He continued: "BoG charges fees for these services and can lend what IT EARNS to Government. If the economy is running well, it means the Government must be able to finance the budget and exports should finance imports. Any excess is the cedi and forex reserves at BoG, mostly for the Government, business and households.

"Hence, the value of the cedi is based on prudent budget management and ability to produce, export more and import less. If the Government has no reserves at BoG or cannot borrow enough on its own [incl. BOG's fees], there will be money in circulation beyond what we need. Result? Inflation!!"
Background

Ghana's inflation for January 2023 has dropped marginally to 53.6% from the 54.1% recorded in December 2022.

This drop would be the first in 19 months since inflation started rising constantly since May 2021.

However, on a month-on-month basis, prices of good between December 2022 and January 2023 rose by some 1.7%. Eastern rgion recorded the highest inflation of 66% while the volta region recorded the lowest inflation.

Addressing the media, the Ghana Statistical Service explained that "Consumer Price Index (CPI) for the month of January 2023 stood at 165.6% relative to 107.8% for the month of January 2022. Relatively we are comparing inflation prices of 165.6 to 107.8.
"The inflation rate for January 2023 has gone up by 53.6% relative to January 2022. Comparing this to the rate we recorded in December 2022 which inflation stood at 54.1% means a decline of 0.25% on the year-on-year inflation for December 2022 relative to January 2023.

"This is the first time that in 19 months continuous upward increase in prices of goods and services has seen a reversal with a decline of 0.5 percentage point. A month-on-month basis that is between December 2022 and January 2023, prices of goods and services went up by 1.7%.

"This is because CPI for the month of January 2023 stood at 165.6% relative to December 2022 107.8%. Prices of goods and services from December 2022 and January 2023 went up by 1.7%.

"Disaggregating this are the two majors between food and non-food inflation and between locally produced items and imported items. We saw a variation of 61.0% for food inflation relative to non-food inflation of 47.9%."