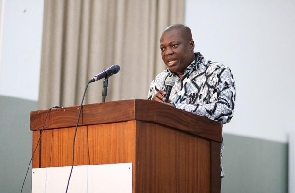 Professor John Gatsi, Dean at the University of Cape Coast Business School, has expressed reservations about growth of the economy as captured by the gross domestic product (GDP); saying the industrial sector's performance is casting doubt on the real impact of GDP expansion.
He emphasised that expansion of the economy should not be the sole focus, but rather attention should be directed toward whether this growth translates into job creation, revenue mobilisation, and a robust industrial sector.

"What should be of concern is not expansion of the economy. Is our growth able to provide the needed jobs and contribute to revenue mobilisation, and is the industrial sector's performance reflecting this expansion?" he queried.

Minister of Finance Ken Ofori-Atta at the budget presentation stressed that GDP will pass the GH¢1trillion threshold for the first time next year. However, the industrial sector – typically the major contributor to GDP – has witnessed a significant decline after respectable performances almost a decade ago.

The industrial sector witnessed robust growth in 2017 and 2018, boasting rates of 15.6 percent and 10.5 percent respectively. However, a notable decline occurred in 2019 (6.4 percent), followed by a significant contraction in 2020 (-2.5 percent). This continued into 2021 with an end-period growth rate of -0.5 percent.

Despite a slight recovery in 2022 (0.9 percent), the sector has seen the negative trend persist into the first half of 2023, with a -2.2 percent growth rate that was attributed to contractions in all sub-sectors except mining and quarrying. This contrasts with a growth of 1.9 percent for the same period in 2022.
"Remember, we have the One District, One Factory (1D1F) initiative – yet the performance of industries is abysmal," Professor Gatsi remarked… highlighting a significant gap between expectations and reality.

Already, projections for the medium term do not suggest a significant change in the economy's structure – with industry expected to end 2024 with a 32.3 percent contribution to the economy. This will decline in the next three years to 31.9 percent, 31.7 percent and 31.2 percent.

"If we take out oil and gas, it is almost as though we do not have a real economy," Professor Gatsi emphasised, underscoring the nation's heavy reliance on the extractive industry.

Touching on the recent removal of taxes to boost local production of sanitary pads, he pointed out a critical issue – lack of capacity in the country to meet the demand for such essential items.

"We do not have the capacity to produce sanitary items to meet demand, unless some other incentives are given," he explained.
The concern echoed was that without addressing the existing production capacity constraints, the removal of taxes might lead to a situation similar to what happened with the suspension of the benchmark value.

Moreover, the economist said the 2024 budget lacks the necessary incentives to stimulate the real economy of Ghana. "The real economy of Ghana has not been incentivised by the 2024 budget," he declared – adding to growing concerns about the sustainability of the economic model.

One of the pressing concerns raised by Professor Gatsi was how government plans to finance the deficit without jeopardising crucial sectors. "Concerns remain as to how government will finance the deficit without jeopardising stability," he noted, calling for a careful evaluation of the budget's impact on the nation's overall economic health.



Click here to follow the GhanaWeb Business WhatsApp channel