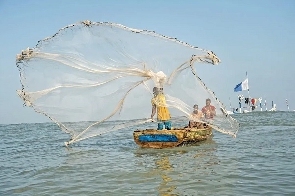 Twenty completed automated premix outlets will be opened by December in different locations across the country, the Ministry of Fisheries and Aquaculture Development (MoFAD) has disclosed.
The move seeks to streamline discrepancies in the premix fuel distribution chain, and will curb issues of middlemen, hoarding and corruption in the premix supply chain.

The cost of premix fuel is reduced by 70 percent to fishermen through subsidy.

The country expends US$40million each year on premix subsidies; however, only 20 percent of the amount goes to fishermen – as the supply system is characterised by illegalities and corrupt activities.

Therefore, automating the supply system is expected to block all loopholes and deter culprits from taking advantage to hoard the commodity.

The sector minister, Mavis Hawa Koomson, gave this hint at the 2023 fishing closed season stakeholder engagement in Accra recently; and indicated that this year's closed season will again be the same period of July and August as implemented in 2021 and 2022 – explaining it is the period of upwelling; upwelling is the best period for spawning.
The same pattern and months of July to August will be followed by both artisanal and industrial trawlers for this year's closed season. In recent times, Ghana's fisheries sector has been threatened by depletion or decline of fish stocks – as shown by low catches by fishers in recent surveys.

This decline in catches, according to data from MoFAD, is the result of climate change, Illegal, Unregulated and Unreported (IUU) fishing, excessive fishing and overfishing, among other factors.

The fishing industry accounts for over US$500million into the economy every year, and employs over 3 million people in the value chain according to MoFAD; which makes it important to adopt strategies for fish stocks recovery and ensuring sustainable management of the country's fisheries resources.

The closed season is a period in the year when fishing expeditions are officially prohibited to allow for natural replenishment of dwindling fish stocks in the sea.