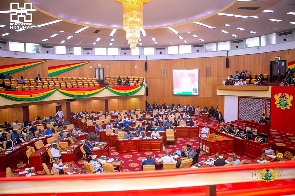 Government believes it is imperative that parliament prioritises the passage of three revenue bills currently before the august House. The outstanding bills are the Income Tax (Amendment) bill, Excise Duty & Excise Tax Stamp (Amendment) bills, as well as the Growth and Sustainability Levy bill.
The bills are necessary for effective budget implementation and boosting the state's efforts at increasing the tax-to-GDP ratio from less than 13 percent to the sub-Saharan average of 18 percent.

When passed, it is estimated that it will lead to a revenue yield of approximately GH¢3.96billion.

President of the Ghana National Chamber of Commerce and Industry (GNCCI), Clement Osei-Amoako, however says the proposed Excise Duty bill and the Growth and Sustainability Levy bill aimed at boosting government revenue will weigh heavily on businesses.

Furthermore, the GNCCI has expressed concern about the policy rate increase by the Bank of Ghana to 29.5%, saying it will exacerbate challenges confronting businesses. GNCC believes the move will hamper growth and employment prospects.

This increase, the GNCCI notes, will also have an adverse effect on consumer spending, exchange rates and inflation management.
Consequently, the Chamber is calling for a review of the policy rate increase to ensure alignment with the needs of businesses in particular. President of the Ghana Traders Association of Ghana (GUTA), Dr. Joseph Obeng, has similar concerns.

He questioned how, while interest rates are going up, businesses are going to thrive with these additional taxes? "If you bring additional taxes, it's going to be very unbearable for businesses," he cautioned.

Meanwhile, Information Minister Kojo Oppong-Nkrumah has added his voice to the debate and impressed on colleague members of parliament, particularly the Minority caucus, to favourably lend support toward passage of the proposed key revenue bills – arguing this is in the national interest.

Passage of the revenue bills will help the country secure an Executive Board Level agreement from the International Monetary Fund (IMF), government argues. This only goes to suggest that information-sharing must be deepened so that both concerns are dissected thoroughly and a middle-ground found.

That way, the business community's interests as well as those of the nation can be factored and considered so as to tailor an acceptable resolution for all.