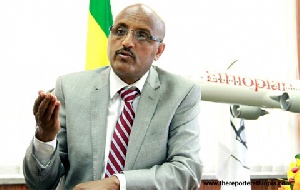 Tewolde GebreMariam, Group Chief Executive Officer (CEO) of Ethiopian Airlines, has stated that 2016 was an exceptionally challenging year for the African aviation industry.
He, however, stated that his outfit expanded its fleet and network expansion and made significant investment in customer services during the year.

The CEO said Ethiopian Airlines added eight aircraft to its fleet in 2016 and closed the year with 82 airplanes in service.

"For the first time in its history, Ethiopian Airlines has diversified to include Airbus aircraft, with Africa's first A350. With an average fleet age of just five years, Ethiopian has one of the youngest and most modern fleet in the world," Mr GebreMariam added.

Customer Experience Investments

"We have also been honoured by the ways our world class service has been recognized: SKYTRAX World Airline Award for Best Airline Staff in Africa and Rising Star Carrier of the Year Award (both for the second year in a row), Cargo Airline of the Year, and African Airline of the Year Award are few to mention," he said.
The CEO said his outfit also successfully completed the modification of all its Boeing 787 Dreamliners with lie-flat beds, stating, "We have expanded and renovated our lounges in our Addis hub."

Infrastructure

Touching on infrastructure, he said the airline has built the largest and the latest aviation academy in Africa, with an investment of $100 million.

Mr GebreMariam added that a new cargo terminal, which is under construction, is 82 percent complete, explaining that the cargo terminal is expected to be operational in April 2017 and will have an annual storage (for both dry and perishable goods) of 1.2 million tons and a capacity to handle eight B747-800 freighters at a time.

With the booming construction in Addis Ababa, he said the airline's four star hotel is 30 percent complete.
He said the hotel, when completed, would have 330 rooms, a banquet hall to accommodate 2,000 guests, restaurants, a swimming pool, gym and spa.

"Despite the sluggish growth in the world's matured market, all of our 12,000 colleagues remained focused on the robust execution of our vision 2025, which has proved to be a winning strategy in today's hyper-competitive and complex airline business.

"We wish to thank our valued customers for their continued vote of confidence in our services and for making Ethiopian their airline of choice," he said.