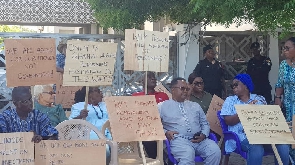 Some members of the Pensioner Bondholders Forum have once again picketed the Ministry of Finance over the government's failure to honour its agreement to pay bondholders after they were exempted from the Domestic Debt Exchange programme (DDEP).
According to them, every country holds pensioners in high esteem, but the case is different in Ghana.

Conveyed at the premises of the Ministry of Finance, the pensioners are wielding placards with different inscriptions on them.

The Forum also noted that they need their monies for medications and other financial obligations.

"Every country respects their pensioners except Ghana," one of the placards read.

"Only in Ghana are pensioners humiliated in this way!!!" it added.
Another pensioner held a board which read, "Why prolong the suffering of pensioners".

Meanwhile, Dr Anane Antwi has called on the government to borrow money from treasury bills to pay pensioners their matured coupons and principals.

Below are some of the placards;