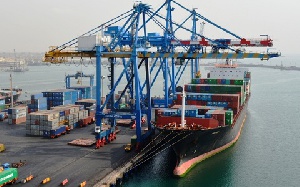 Kasapafmonline.com can authoritatively state that a mass interdiction exercise is ongoing at the Customs Excise and Preventive Service(CEPS) division of the Ghana Revenue Autority (GRA) at the Tema Port.
A total of over 100 Customs officers have so far been interdicted.

As at Thursday (today) a total of 80 query letters have been sent to some officers to answer for their alleged failure to do due diligence on transactions they supervised, which are said to have caused the state millions of cedis.

According to this website's sources, the affected officers are those stationed at Shed 10, APM, ACS and TCT terminals at the Port most of whom have worked for over 20 years and are nearing their retirement.
Kasapafmonline.com is reliably informed that all the work done by these offices since 2012 have been pulled out from the system and are being thoroughly scrutinized on suspicion of wrongdoing.

Currently over 300 customs officers some of whom have been transferred have been called back and issued with their query letters and given two days to respond to the charges leveled against them. Their interdiction letters expected to following soon.

This website is told that the development has dumpen the spirits of several Customs Officers at the Port resulting in an all time low morale amongst them.