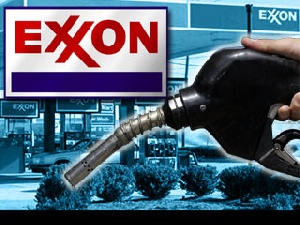 Tue, 6 Oct 2009 Source: Dow Jones
U.S. oil giant ExxonMobil has bought Kosmos Energy's stake in oil blocks offshore Ghana that contain large oil discoveries, a person familiar with the matter told Dow Jones Newswires Tuesday.
The deal marks the first entry by one of the world's major oil companies into what is proving to be a significant new oil province and may pave the way for further acquisitions. Shares in Kosmos' partners in the blocks - Tullow Oil PLC (TLW.LN) and Anadarko Petroleum Corp. (APC) - both saw significant gains as the market priced in possible takeovers, analysts said.

At 1428 GMT Tullow was up 7.6%, or 85 pence, at 1200 pence and Anadarko was up 4.8%, or $2.97 at $64.62.

The person did not give the value of the deal. Analysts at Morgan Stanley put a value of $3.3 billion to $5 billion on Kosmos' stake in the blocks.

ExxonMobil declined to comment. Kosmos was not immediately available to comment.

The Kosmos blocks contain the Jubilee field, which is operated by Tullow and is estimated to hold between 1.2 billion and 1.8 billion barrels of oil equivalent. A separate discovery offshore Sierra Leone last month by Anadarko, at the western extreme of the same geological formation that contains Jubilee, signaled the potential for further multi-billion barrel discoveries stretching eastward for 1,100 kilometers through the waters of the Ivory Coast and Liberia.
For this reason, ExxonMobil's (XOM) acquisitive interest in this area is unlikely to stop at Kosmos Energy, said NCB Stockbrokers analyst Peter Hutton. "Kosmos is too small for them. The move should be seen as a precursor of wider interest," possibly a takeover of Anadarko or Tullow Oil, both of which hold significant exploration acreage in the region, he said.

"Given the level of interest out there and the number of vultures circling," ExxonMobil may need to act with a little more haste than normal if it wants to take a dominant position in the region, Hutton added.

The entry of a blue-chip name like ExxonMobil is a major positive for Ghana too, said Hutton.

"The Ghanaians should be very pleased. They've got an embryonic oil industry," and now they have the involvement of one of the largest, most experienced and technically qualified oil companies, said the person.

A large number of major international and state-owned oil and gas companies were among potential buyers of this strategic asset. These companies have been informed by letter that Kosmos has entered into an exclusive arrangement with ExxonMobil, the person said.
Kosmos holds 30.875% of the West Cape Three Points Block and 18% of the Deepwater Tano block. Its partners are Tullow Oil PLC (TLW.LN) and Anadarko Petroleum Corp. (APC).

Jubilee field straddles both blocks and Tweneboa discovery in Deepwater Tano is thought to be another large oil reservoir.

Company Web site: http://www.kosmosenergy.com
Source: Dow Jones