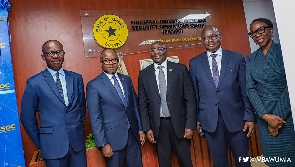 Bank of Ghana Governor, Dr Ernest Addison has said that the just commissioned Financial Industry Command Security Operations Centre (FICSOC) will provide real-time visibility into cyber threats and attacks targeting the banking sector.
He outlined that the FICSOC project which started about three years ago saw the Central Bank working with commercial banks as key external stakeholders to create a secure cybersecurity environment in the financial sector.

Speaking at an event to commission the Centre at the General Services Complex of the BoG, Dr Ernest Addison recounted that in 2018, the Central Bank issued the Cyber and Information Security Directive (CISD) for banks and other Bank of Ghana-regulated financial institutions.

He explained that the directive was on the basis that all regulated financial institutions would implement the required Information Security Management Systems (ISMS) controls to ensure delivery of a safer digital financial sector.

"The implementation of the Directive was phased over 36 months, and through effective monitoring and supervision among regulated banks. As these institutions worked towards full implementation of the Directive, it became evident that the BoG had to establish an industry Security Information and Event Management (SIEM) system to enable those institutions implementing SIEMs to send logs/alerts, aggregate information and reports," Dr Addison shared.

To further achieve this, Dr Addison said the Central Bank initiated the SIEM project which is known as the Financial Industry Command Security Operations Centre (FICSOC) Project.
"The FICSOC Project is now completed and operational with reports/alerts in the form of threat intelligence provided to the banks to improve their incident response mechanisms adding that the project is a key component of the systems to address the challenges with regards to cyber security," the Governor noted.

Meanwhile, the Bank of Ghana and the Cyber Security Authority have been collaborating to improve the cybersecurity posture in Ghana's banking sector.

In particular, the two institutions are discussing various ways to approach implementation of the Cybersecurity Act, 2020 (Act 1038) for the banking sector.

MA/FNOQ