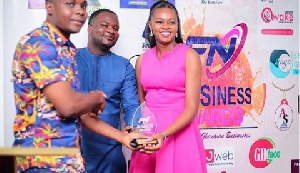 The highly anticipated Orange Edition of the FN Business Awards (FNBA) was successfully held at the Golf Suites Hotel, Westlands over the weekend, Saturday, 15th December 2018.
A total of 20 astute business leaders, entrepreneurs and organisations were appreciated and awarded for their immeasurable contributions towards the economic growth of Ghana.

Mr Frederick Noamesi, CEO of FN Network in a speech stressed that FNBA is an annual awards scheme instituted by FN Network to celebrate and honour growing Ghanaian businesses, startups, SMEs and individuals making meaningful impacts, creating an enabling environment for economic growth and solving societal problems.

He also charged every business leader to hold government accountable on promises made to them to boost their operations.

Ghanaian musicians; Litikal, Klarah Kay, Tyra Meek, Lofty Fullpage, Kimani and Stickie Swagchilling took turns to thrill patrons for the night.

Mixitc Romras, Mz Shawwal and Tinalove Nyaram held down the event as the official MCS.

Below is the full list of the winners at this year's Orange edition of FN Business Awards as well as the Honoraries.
Best Business Of The Year, 2018 – Pizarea

Best Male Entrepreneur, 2018 – Prince Oke Emiko

Best Female Entrepreneur, 2018 – Adjoa Denkyira

Best Event Management Business, 2018 – Merlot-Event Consult

Best Fashion House Business, 2018 – Anafo Bisi Clothing

Best Media Business, 2018 – Ray Multimedia
Best Blogging Site, 2018 – www.Musicarenagh.com

Best Online Broadcaster, 2018 – Lens Radio

Best Photography Business, 2018 – 100% Amezado Photography

Best Social Enterprise / NGO, 2018 – Berla Mundi Foundation

Best Technology Business, 2018 – Pizarea

Best Health Business, 2018 – Standout Care
Best Student Startup, 2018 – Promosgh.com

Best Food And Beverage Business, 2018 – Pekabu Ventures

Special Awards

Best PR & Online Marketing, 2018 – Young PRs

Promising Media Entrepreneur, 2018 – Enoch Boateng Jnr

Community Game Changer – DUSAF
Best Researcher In Prostate Care – Dr. Raphael Nyarkotey- Obu

Best Supporting Media Partner – Naijweb.ng

Best Civil Rights Activist – Emmanuel Korsi Senyo

The FNBA 2018 was proudly sponsored by Souce Code Network Limited, Senyo Global, Lionsheart Security Limited, Sleek Stitches, Tipcena Compu Works and Awake News.

Media partners are; Fnnewsonline.com, Ghface.com, Young PRs, AwakeNews, Naijweb.NG, Kwapex Creations, Wyse Promoions and Blewu TV.