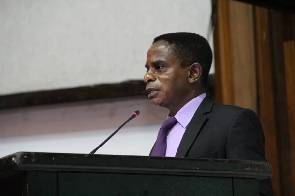 The Auditor-General has released a report on government's expenditure made during the COVID-19 pandemic covering the period between March 2020 to June 2022.
The special audit report has been prepared under Section 16 of the Audit Service Act, 2000 (Act 584) for submission to Parliament.

It detailed the various expenditure made by Ministries, Departments, and Agencies during the aforementioned period.

The report noted that records on COVID-19 funds at the Ministry of Finance, Controller and Accountant-General and Ministry of Health indicated that, the Ministry of Finance mobilised a total amount of GH¢19,112,318,205.12 in 2020 to mitigate the impact of the COVID-19 pandemic.

The records showed that an amount of GH¢1,978,551,137.46 was mobilised in 2021 and GH¢753,319,842.66 (up to June 2022) to finance the Coronavirus Alleviation

Programme and the implementation of the Ghana COVID-19 Emergency Preparedness and Response Plan.
In all, a total amount of GH¢21,844,189,185.24 was mobilised to mitigate the impact of COVID-19 pandemic in Ghana.

"We noted that the amount of GH¢21,844,189,185.24 was sourced from the Contingency Fund, the World Bank Group, the International Monetary Fund (IMF), the African Development Bank (AfDB), the European Union (EU) and the sale of BOG-COVID-19 Bonds for the 2020, 2021 and 2022 Fiscal Years to finance the Coronavirus Alleviation Programme and implementation of the Ghana COVID-19 Emergency Preparedness and Response Plan as well as Budgetary Support. The details are provided in this report," A-G report added.

See the full report below: