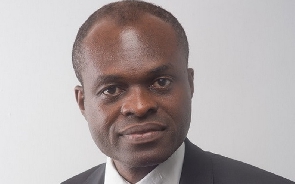 Lawyer Martin Kpebu says he knew government could not keep to its promise to pay bondholders on the scheduled date, March 13.
He claimed the Finance Minister, Mr Ken Ofori-Atta has again proven why most Ghanaians are calling for his resignation from the sector.

"You can never trust him (Ken Ofori-Atta)," Lawyer Kpebu said in an interview with NEAT FM's morning show, 'Ghana Montie'.

The government promised to pay matured coupons and principal of old bonds beginning March 13, 2023, after reneging on its promise of paying coupons that matured on February 6-20, 2023.

This follows the conclusion of the Domestic Debt Exchange Programme (DDEP).

In view of this, the government amongst others announced that "in fulfilment of the assurance given by Government to bondholders who did not tender, the Ministry is taking administrative steps to ensure that payments of coupons and principals of the old bonds resume by 13th March 2023".
The Finance Ministry in a statement on February 27, 2023, explained that new bonds settled and listed will become the new benchmark bonds.

But, payments to bondholders are yet to be made.

Lawyer Martin Kpebu who is not happy about the situation said, "If he (Ken Ofori-Atta) is not ready to pay, why didn't he communicate that to us earlier?"

"His behaviour is questionable as Finance Minister," he told host Akwasi Aboagye.

The Ministry of Finance has assured that bondholders whose coupon and principal payments matured on the 6th February 2023, and 13th February, 2023 will receive their funds within the next 48 hours.
The assurance comes after bondholders complained of not receiving their payments on Monday, 13th March, 2023.

According to the Ministry of Finance, the processes to settle the payments on outstanding bonds commenced on the 13th of March, 2023.

"The initial instruction covers coupon and principal payments on bonds that matured on 6th March 2023 and 13th February 2023. Holders of the afore-listed bonds should therefore expect to receive their payments within the next 48 hours," a statement from the Finance Ministry said.

"Payments dates for subsequent maturities will be communicated in due course, as processing continues," the statement added.

Group issues 48hr ultimatum
Earlier today, 14th March, 2023, the Coalition of Individual Bondholder Groups issued a 48-hour ultimatum to the Ministry of Finance to pay all matured principal and outstanding coupons due on the existing bonds issued by the Government of Ghana.

This follows the expiration of the deadline by the government to honour its debt obligation.

In a statement signed by Dr. Joel Djangma Akwetey and Senyo Hosi, the coalition called on the Securities and Exchange Commission and the Ghana Stock Exchange to enforce the rules of full disclosure required by all issuers including the Government of Ghana.