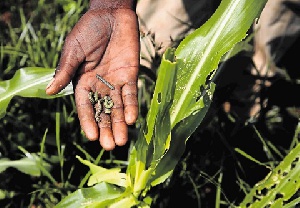 The fall army worms are wreaking havoc on farms - laying waste investments made by farmers in some Assin North communities.
Large hectares of cocoa, rice and maize farms at Ninkyiso, Yaw-Atta, Teacher Amoah, Kwame Ankra, Twiapiase, Simpa, Kyeanka and Anwiaso had been destroyed by the worms.

The eight communities have a combined population in excess of 3,000.

Nana Issaka Apewosika, a spokesperson of the farmers, told the Ghana News Agency (GNA) that the situation was heartbreaking.

The worms were increasingly becoming a huge disincentive to farming and needed to be tackled.

They had not only been attacking cereal crops but tree crops, something he said, he found shocking and unbelievable.

He said they had been spraying chemicals on their farms but this had proven ineffective.
He added that the destruction of cocoa farms by the insect pest together with the swollen shoot diseases could affect cocoa production levels.

Nana Apewosika therefore called for the Ministry of Food and Agriculture (MOFA) and the Cocobod to take urgent steps to tackle the worms, to stop the invasion of more farms.

There should also be proper farmer education on how to battle the pests.

The farmers complained about the price of the recommended chemicals for fighting the worms and said they did not have the money to chemicals to regularly spray our farms.

Mr. Prince Osei-Poku, the Assin North Municipal Crops Officer, said they had run out of the recommended chemicals and had been providing advisory services to the farmers