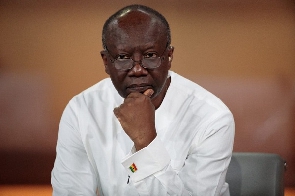 The Minister for Finance, Ken Ofori-Atta, has hinted that there will be an imminent 2nd round of restructuring of the country's domestic debts.
According to him, despite completing the restructuring of some GH¢98 billion worth of domestic debts in February, there are ongoing negotiations to restructure some additional GH¢123 billion domestic debt instruments.

Mr. Ofori-Atta made this known during a presentation to stakeholders on macroeconomic developments and the upcoming public debt restructuring as part of the ongoing IMF/World Bank spring meetings in the US.

"In February we successfully completed the first pillar of our domestic debt exchange programme, we realized that there was no other alternative to a full domestic debt exchange," he told stakeholders.

"The February DDEP covers GH¢98 billion of our domestic debt and we expect the rest of our debt instruments to be included in the perimeter of the domestic debt to be exchanged," he added.
Amongst the debt instruments to be affected by the next round of debt exchange are Pension fund holdings, coco-bills, US$ local bonds, local currency loans, and Government's debt to the Bank of Ghana, totaling some GH¢123 billion.

Ken Ofori-Atta however insists treasury bills will not be affected.

"Talk of treasury bills, it has been excluded to preserve financial stability and ensure government funding."

Government in December at the start of its first domestic debt exchange programme had indicated it could exchange more domestic debt stating "it intended to exchange domestic non-marketable debt and Cocoa bills, under comparable terms at a later stage"