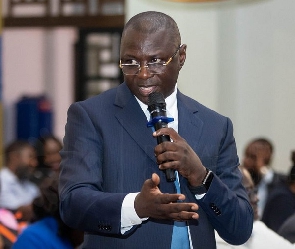 Minister of State responsible for Finance, Mohammed Amin Adam has disclosed that the International Monetary Fund will likely approve a first tranche of $600 million loan for Ghana by Wednesday, May 17, 2023.
According to him, government expects the IMF Executive Board to approve the credit facility after meeting all pre-conditions and requirements particularly after financing assurances have been granted by official creditors, China and the Paris Club.

"We expect a deal on Wednesday. With the disbursement, there is going to be $600 million as a first tranche just immediately after the approval," he told Reuters via phone.

Dr Amin Adam was however optimistic that the funds will be disbursed into the Bank of Ghana account within a week of the IMF Board's approval.

Speaking on the second tranche of the $600 million loan, the minister of State said government expects the funds to also hit the Central Bank's account in November or December after a successful review of the first loan tranche under the programme.

Dr Amin Adam added that the rest of the funds will be disbursed in equal tranches of $360 million after the IMF has conducted its semi-annual reviews of the extended credit facility.
"The funds will boost Ghana's coffers and help it work towards the target of foreign reserves amounting to the equivalent of three months of imports by 2026," the minister of State told Reuters.

Ghana on July 1, 2022 engaged the IMF for assistance following a wave of economic challenges coupled with the effects of the COVID-19 pandemic and the Russia-Ukraine war.

In December 2022, the country secured a Staff-Level Agreement with the Fund with government launching the Domestic Debt Exchange Programme (DDEP) to restructure its debt.

On Friday May 12, 2023, Ghana's official creditors consisting of China and the Paris Club provided the necessary financing assurances needed to pave the way for the country's US$ 3 billion request from the IMF.

Watch the latest edition of BizTech and Biz Headlines below:




MA