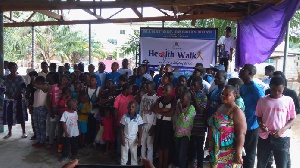 The First Allied Savings and Loan limited has donated items to the tune of GHC10, 000 Ghana Cedis to the All Nation Charity Home in Kumasi.
The items include: 20 bags of cement, bags of rice, cooking oil, biscuits and toiletries.

The gesture is aimed at giving solace to disadvantaged children in the home, an initiative which forms part of the financial institutions corporate strategy.

Staff and management of the First Allied Savings and Loans raised the amount for the item through personal donations to put smiles on the faces of the children at the home.

Speaking in an interview with Ultimatefmonline.com after making the presentation, Marketing Manager of First Allied Savings and Loans, Kwame Asamoah Amoako said the company is interested in making children happy hence the decision to support the facility with items.

"As a company, our interest is goes beyond serving our customers but rather stretching a helping hand to the need in society. We are going a step further to construct a storm drain and a broken bridge around the home to prevent the perennial flooding at the Home," he said.
He said the slogan of First Allied Savings and Loan, 'extending a helping hand' motivated their donation to the Home and promised that the company will make more donations to the betterment of the Home and other needy institutions.




The Founder and Executive Director of the All Nations Charity Home, Rev. Philip Kwasi Nyamekye, receiving the items, thanked the company for the gesture and said it would go a long way to support the upkeep of the children.

"The support we receive and continue to receive from First Allied Savings and Loan is immeasurable and hope the relationship between the Home and them will continue," he said.


He said the needs of the Home are vast and called on other benevolent individuals and institutions to come to their aid.

The Home has a population of 61.




Earlier, staff and management of First Allied Savings and Loans embarked a 10kilometre walk from their office in Asafo, through to Anloga Junction and to the All Nations Charity Home-Ayigya.

They later had aerobics and a health screening exercise with the children.