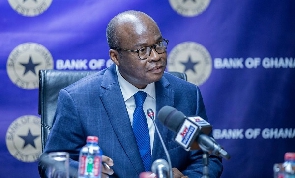 Central Bank Governor, Dr Ernest Addison has disclosed that the first disbursement of $600 million out of the US$3 billion loan facility from the International Monetary Fund will go towards supporting government's 2023 budget.
According to him, the Bank of Ghana will credit the cedi equivalent of the amount to government in order to allow it support its budgetary programmes.

"The IMF was very clear from the beginning in terms of this particular transfer, that it was specifically for the budget support.

"The BoG will however benefit, when it comes to the forex inflows, this is because we will take the dollars and credit the cedis to government accounts," he stressed.

Dr. Ernest Addison made this known when he addressed journalists at the 112th Monetary Policy Committee press conference held on Monday 22, 2023.
Meanwhile, Finance Minister Ken Ofori-Atta had earlier corroborated the similar stance by the Bank of Ghana saying that the first tranche of the loan facility would go towards supporting government's 2023 budget.

"If it was purely a budget of payment support, there will have not been a counterpart to support the budget, and the Bank of Ghana will have sterilized the full impact of the expected forex inflow", Dr. Addison stressed.

The Governor was, however, cautious that the Central Bank has to effectively manage the liquidity implications of the budget support to government on the general economy.

MA/SARA