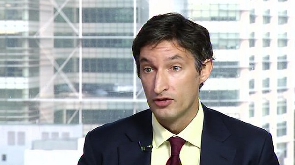 International rating agency, Fitch has cautioned Ghana on the rising interest cost on domestic debt despite the country securing an IMF supported programme to restore macroeconomic stability.
According to the agency, the IMF programme will not provide the requisite support with regard to Ghana's overall debt sustainability position in the medium term.

Senior Director for Emerging Markets at Fitch, Toby Iles warned Ghana along with other African nations of the increasing interest cost on domestic markets.

"As I mentioned right at the beginning, there has been more development in the domestic debt market and so it's become more important. When we look at things in terms of interest cost of the government; break them down by domestic debt interest cost and compare them with external interest cost, the share of interest cost on domestic debt has been going up".

"So domestic debt becomes more of a question mark", he made this known speaking during a webinar on Africa Sovereigns Amid Financing Crunch.

Mr Illes further mentioned that terms of the debt restructuring exercise may not offer the required help with regard to the overall debt sustainability.

"Terms of the actual restructuring: it definitely helps in terms of liquidity but it doesn't help in the overall debt sustainability over the medium term. It presupposes there will also be other fundamental improvements in fiscal consolidation," he explained.
Meanwhile, interest rates on Treasury bills (T-Bills) in Ghana have been experiencing a surge after declining sharply to about 18 percent in March 2023 from 35 percent.

This development has raised some concerns among market analysts over a viable debt restructuring programme of the short-term financial securities.

MA/FNOQ

Watch the latest edition of BizTech below: