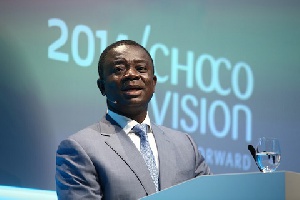 New Board Chairman of COCOBOD, Hackman Owusu Agyemang, has revealed that the immediate past Chief Executive Officer of Ghana's prestigious cocoa institution, Dr. Stephen Opuni, was put on a monthly gross (before tax) salary of GH?75,000.
However, his (Opuni) net (after tax or take home) salary was GH?57,000.

"The documents I have sited say so," he noted in an interview with Kasapa FM's Akwasi Nsiah on Kasapa Kasie, Tuesday, March 28, 2017.

The amount was almost three times that of what former President John Dramani Mahama was receiving as well as any other Article 71 holder.

Mr. Mahama was previously receiving a monthly salary of GH?20,729.00 but a 10% pay rise saw the amount increased to GH?22, 808,00.

Speculations are rife that Dr. Opuni succeeded in getting the GH?75,000.00 salary approved for him after convincing the then Board to do so.
Mr. Owusu Agyemang continuing, further revealed that all the documents he has cited in connection to the salary of the immediate past CEO will be forwarded to the Economic and Organised Crime Organization which is already investigating Dr. Opuni.

The new Board, he added, will also ensure a reduction of the salary of the new CEO of COCOBOD.

"The new Board will reduce the salary drastically. But even if we do, the amount will still be bigger than that received by Article 71 holders.

Nonetheless, he said his outfit in consultation with President Nana Addo Dankwa Akufo-Addo, will correct the wrong and do their best for mother Ghana.