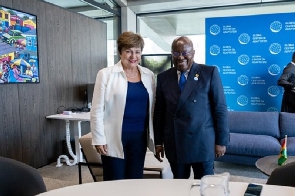 Government has told the International Monetary Fund that it will undertake a review of all government flagship programmes as part of the US$3 billion IMF bailout as government tries to find its way out of an economic crisis.
In the May 2023 IMF report on Ghana extensively addressing the terms and conditions underpinning the deal between the two parties, government is expected to publish a strategy to decide the course of action of these 16 programmes.

A paragraph under the heading of 'Public Debt Management,' on page 59 read in part: "We will review government flagship programs and publish a strategy to decide the future course of action.

"The decision for rationalization will depend on the assessment of efficiency, effectiveness, and value for money for each program. For social programs, we will rationalize and align spending envelope with SDG targets," the report continued.

Accra-based Joy News quotes a government source as affirming the matter: "Flagship programs including 1 Village 1 Dam, 1 District 1 Warehouse, and Infrastructure for Poverty Eradication Project (IPEP) will also be reviewed and streamlined.

"Agenda 111 will be reprogrammed to be completed over five years (2022-27) in line with budgeted allocations to GIIF from ABFA for Health Infrastructure,"
Information minister Kojo Oppong Nkrumah is also on record as telling the station that: "this is not the first time that we have made and publicly expressed this intention and this commitment.

"So it covers all the sixteen flagship programs and it is a constant exercise of looking at the efficiency in terms of the spend, can we make some savings in terms of the spend, how much effectiveness are you achieving for every cedi you are spending on it and in terms of the value for money are you getting every cedis worth for what you are spending on." he stated.

The Free Senior High School programme has been one of the most talked about since its inception in 2017.

Government has over the years resisted calls from within and without to review it but the current move means it could be up for some form of review or the other.