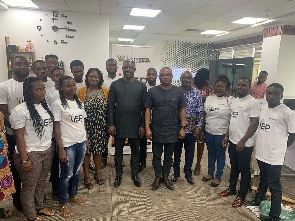 Thu, 26 Jan 2023 Source: GEPA
The Ghana Export Promotion Authority (GEPA) has organized a send-off session for The second cohort of trainees of the Youth in Export Programme (YiEP) at the African Trade House.
The brief event held at the GEPA Impact Hub marks the official kick-off for the 100 Trainees to begin their training with mentors to Learn the full gamut of production for exports. It is expected that these Trainees would undergo the full six months of the training which is expected to build their capacity and skills in their various product areas and become successful exporters in the near future.

This second phase of the programme has brought on board seasoned Mentors/Exporters selected from the Eastern, Central, Volta, Northern and Upper East regions of Ghana supporting the youth in the cultivation of fruits, vegetables, cashew, as well as the processing of shea and its derivatives and Art and Crafts.

The trainees comprises 55 men and 45 women – a significant improvement on the first phase which had 16 men and 4 women.

The Youth in Export Programme is one of the flagship programmes of GEPA which is expected to support the objective of the National Export Development Strategy in generating USD25.3 billion in Non-traditional Exports by year the 2029.

Speaking at the Send-Off Ceremony, Mr. Samuel Dentu, Deputy CEO in charge of Finance and Operations, who spoke on behalf of the CEO announced that the YiEP has attracted the attention of the USAID through the Ghana Trade and Investment Program (GTI) and will soon receive grant funding to support the initiative.

Trainees were presented with the required tools to help them start their mentoring sessions without any challenges e.g. wellington boots, protective clothing, goggles, gloves, rakes, hoes and other farming implements.
They will also be provided with monthly stipends to cover some of their needs while in training. At the end of the programme with Mentors, the trainees will also be provided inputs such as parcels of land, irrigation facilities, seeds etc. depending on their various fields of training, to set them up for the business of export.

About GEPA

The Ghana Export Promotion Authority (GEPA) is the National Export Trade Support Institution of the Ministry of Trade and Industry (MOTI) responsible for the facilitation, development and promotion of Ghanaian exports.

GEPA is mandated to develop and promote Ghanaian exports with a primary focus on diversifying Ghana's export base from the traditional Gold and other unprocessed minerals, Cocoa Beans, Timber Logs and Lumber. This is to ensure that Ghana's export trade contributes to accelerated economic growth through strategic aggressive marketing of Made-in-Ghana products in the competitive global economy.

There are over 383 different Non-Traditional Export products categorised as Agricultural, Processed/Semi Processed and Handicrafts. Export Trade in Services is a new and recent addition to the non-traditional export portfolio.


Source: GEPA